Introduction
Favourite Haunts
The HFO have skied in France a lot. Sometimes we'll have a bad week where the hotel was terrible or the snow didn't fall and we'll head off elsewhere, fall for somewhere else and ski there for a few years, but there's always a sense that we're missing something, and sure enough we always end up coming back to France eventually.
What is it about French resorts that draws us back, time after time? Perhaps it's because the resorts are, in general, better organised; perhaps it's because the scenery is spectacularly beautiful. But I suspect that it's primarily because we're always able to find skiing in France that pushes our abilities to the maximum.
Getting There
By Road
Strangely enough, the most enjoyable trip I've ever taken to get to a ski holiday was when a few of us drove to the resort of AVORIAZ in the Portes Du Soleil ski circuit, south east of Geneva.

The science fiction ski resort of Avoriaz
It took the best part of a day to get to Folkestone, cross on the Sea Cat (just like being in a very, very wide airliner), drive down the autoroutes to just south of Geneva, then climb up into the mountains. We could stop when we wanted, take time out to go shopping in a couple of towns we went through, and with a diesel car, we filled up once on the way out and once on the way back.
On the other hand, 24 hours sitting on a coach on the way to Val Thorens is not my idea of a good time. Getting to Paris on a coach is about my limit these days. And be careful getting off the coach - one passenger took one step out of the vehicle, trod on some ice, slipped, and spent the rest of the day in hospital being treated for a broken leg. Not the best way to start your holiday.
By Train
With the advent of the Eurostar service to the continent, it's easier than ever to take the train on holiday. Most of the French resorts can be reached by rail with a coach transfer to the resort. Make sure you don't miss the coach transfer you've got booked, though. Taxi rides to resorts don't come cheap. A taxi from Geneva to Avoriaz worked out at £ 75, and that was ten years ago. Also bear in mind that Eurostar carriages don't cater for large quantities of luggage or skis being carried; they're supposed to be taken in your car(!).
By Air
By far the fastest way to get to the resorts is by air with a coach transfer from the airport. Most skiing holidays are offered with a flight and this is what we normally take. You've got a seat, you get fed, someone will usually try to sell you Tax Free goods, what more do you want? Well, if you're really lucky, you get a window seat and it's a clear day. Paris looks spectacular on a winter morning from 30 000 feet, and the Eiffel Tower is easy to spot.
Once you've got your luggage, things are normally pretty well organised, although checking in on the return journey is always, without fail, the worst experience of any ski trip. Just make sure you've something to read on the coach, because French roads on transfer days are not fun. It took us over five hours to get back from La Plagne to Lyon on our last trip compared with just over two hours on the way out.
The Resorts
Spectacular Scenery
The HFO have been to quite a few places in France, but there always seem to be more.
We've stayed at two resorts in the Portes Du Soleil ski area. Morzine is a traditional French town, and has been around a lot longer than the ski industry has. As a result, it has a more balanced character than some of the purpose-built resorts. Despite this it still offers opportunities to pay outrageous sums of money drinks in the nightclubs in the evening. Morzine used to be Princess Anne's favourite ski resort, the HFO was told by the locals. Morzine lies in a valley, at fairly low altitude, so if the snow's poor you're going to have to catch a few lifts before the going gets good. Happily, the SuperMorzine link (or a bus ride to a huge cable car) will soon get you above 1500m and into some very spectacular scenery. I don't know if it's still there, but Morzine also used to have a really old cinema - the Rex - where the HFO once watched "Une Poisson Nomme Wanda" on a quiet night.
Avoriaz is another kettle of poissons altogether. It was founded in the 1960s, intended to be one of Europe's premier ski resorts, and its whole design revolves around skiing. There are plenty of high-capacity lifts to get you through the town, and more to take you up to the back bowls, where the good snow is. Every winter Avoriaz hosts a film festival, and when we were there you could see people like John Carpenter, Ken Russell, or Elton John wandering around looking at the architecture. During the festival, it's worth having your camera with you on the piste: fancy dress skiing here is a little more involved than fancy face paint. HFO members have been passed by skiers dressed up as gorillas, spacemen, sheiks, and giant rabbits.
The HFO's first trip to the Three Valleys ski area found us staying in Courchevel. There are several villages at Courchevel, distinguished by their altitude. We stayed at Courchevel 1550. You can also stay at Courchevel 1650 or at the highest of the three, Courchevel 1850. Skiing is, of course, tremendous. Courchevel seems to be full of little back bowls and wooded runs, and we were continually discovering new parts of the valley we hadn't skied before. However, in the evenings we tended to stay in the chalet; there didn't seem to be much in the way of nightlife to tempt us away from a large stock of Kronenbourg 1664 and even larger quantities of chocolate cake.
The following year we tried the highest of the Three Valleys resorts, Val Thorens. At an altitude of 2300m, it's the highest ski resort in Europe. The altitude can have a serious effect on people, and if you're not used to it, it's safest to take things easy until you acclimatise. The Belleville valley can be very bleak - it's way above the tree line and sometimes it feels like you're skiing across the surface of the moon.
The middle valley contains the resorts of Meribel and Mottaret, well-placed for getting anywhere else on the circuit, and easier to get back to at night. You don't want to get stuck in the wrong valley when the lifts shut; a taxi back will be very expensive. Meribel hosted the Ice Hockey championships in the 1992 Olympics, and if there's a match on at the stadium, a visit is highly recommended. Wrap up warmly, though: even on a February night in the mountains it was still colder inside the stadium than outside!
Tignes is a purpose built resort, like Val Thorens, at 2100m it lies at almost the same altitude, and like Val Thorens it comes across as being rather soulless. The HFO usually visited it as part of a day's trip from somewhere else, combining the trip with a visit to Val d'Isere. Here too, HFO members encountered a skier dressed as a large pink rabbit. Hmmm.
Les 2 Alpes was the resort the HFO visited recently, and it was a pleasant surprise. Although there are a number of huge hotels in the town itself, the place never seemed too busy and the runs weren't crowded at all. There are several routes up to the glacier, and there's a spectacular view all round when you get there. In fact, the glacier has some of the best-kept runs for beginners, as they're wide and flat. Just watch out that you don't get caught by the altitude.
The resort is a bit spread out, and from some of the chalets you'll need a brisk walk first thing before you'll get to a lift. Again, in the evening there are a couple of main routes back to the town and if you haven't been lucky enough to get snow, the easier runs can get worn and icy. Having said that, the bottom part of the black run into town was the best way back and most of the people I was with were capable of negotiating it.
While the HFO were there, we also visited Serre Chevalier, which is a two-hour coach journey from the resort. Serre looks great, lying as it does along a valley lined on either side with spectacular mountains.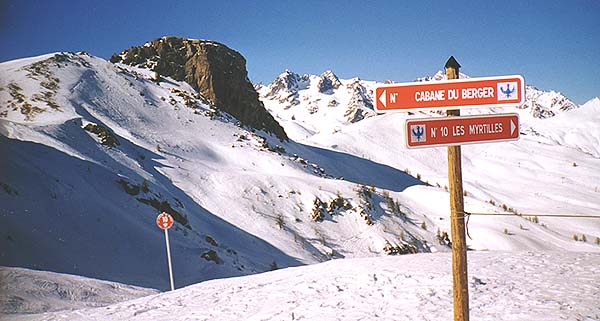 Above Serre Chevalier
The problem we found was that the pistes were very strung out. Bad layouts of runs led to bottlenecks at several points on the circuit, and the standard of pisting on the day we were there was low - there were lots of unmarked rocks on blue and red runs which could easily catch the unwary beginner.
Alpe D'Huez was a complete contrast. A five-minute helicopter flight from Les 2 Alpes (or about two hours by coach) and you're at the edge of the huge ski area by the resort itself. I don't think I've ever seen such a large area for beginners, and all of it very well organised. Alpe D'Huez also has high-capacity lifts for getting you up the mountain, and there were very few queues when we visited. Pisting was excellent and there were very few hazards on the slopes themselves. In fact, I was impressed enough by Alpe D'Huez to consider using it as a base for a holiday in the future.
In 2002, the HFO visited La Plagne. Like Courchevel, La Plagne is a resort built around a number of small villages. We stayed at one of the lower resorts, Plagne 1800. The picture below was taken from one of the runs back to the resort, and as you can see, it's quite handy for lifts and pistes. In fact, our chalet is the building by the road, just below and right of center in the photo.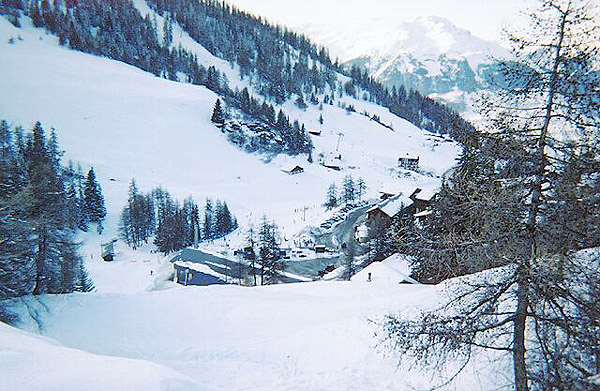 The Way Home into Plagne 1800
Up the mountain from Plagne 1800 is Plagne Centre, which is the commercial centre of the resort, surrounded by Plagne Soleil, Plagne Villages, Plagne Bellecote, and furthest away of them all, Belle Plagne. Looking down on them all is Aime La Plagne at 2100m. The photo below shows some of Aime on the left, with Plagne 1800 in the valley in the middle, Plagne Centre on the right, and Plagne Villages off in the distance.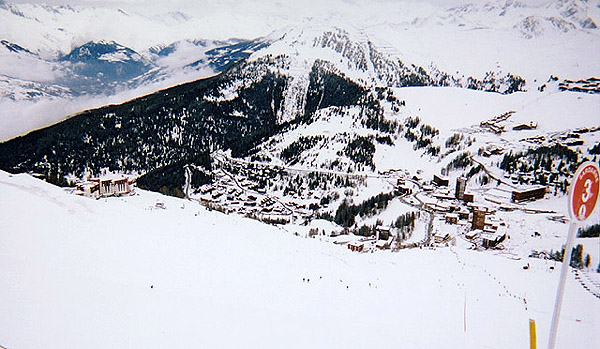 Plagne Panorama during a break in the snow
There's easily enough skiing to keep most folks challenged for a whole week, and as it snowed every day we were there, the skiing was excellent. On a morning run down the long blue called "Pravendue" towards Plagne Montalbert (1350m) we were running on pistes with no tracks or trails on them - not something you find that often in Europe. Unfortunately La Plagne suffers from a bad bottleneck in Plagne Bellecote. Get there after 2.30 or so in the afternoon and you could face a half hour wait for a lift to get you home. The resort's planned expansion and links to Les Arcs may make it more attractive and challenging as a ski area, but unless they add more links from one side of the area to the other you'll still get stuck in the middle on your way back.
But did we have a good time? You bet - we were very well looked after by Skiworld, the company we went with this year, the folks in the resort were friendly, the bar at "La Mine" round the corner from the chalet stays open until 1.30am, and the Mamma Mia pizzeria and bar in Plagne 1800 does good food if you don't fancy eating in the chalet every night.
The Skiing
It's What You're Here For
Grading - For a beginner, blue runs will still present the occasional challenge. Reds, compared to those in other countries, can be quite difficult. If the French mark something as Black, they really mean it. And be advised - that's where the scale stops. The diamond rating used in America doesn't get applied here.
For example, if you're feeling up to it, you can nip up the valley at the back of Avoriaz and ski The Wall, probably the hardest black run on the circuit (its full name is "The Wall of Death"). If you get to the bottom in one piece, you're in Switzerland. It's good fun, but hard work if the moguls at the top have got too big. The more sensible souls are the ones who take the chair lift down, although even that can seem intimidating, as you can see...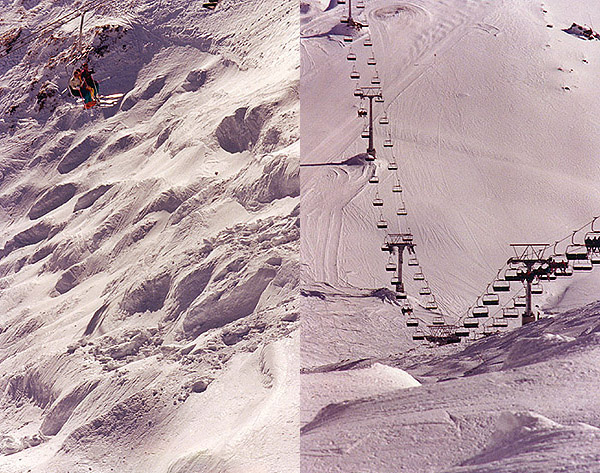 "The Wall of Death" at Avoriaz. Dig those moguls!
In the Portes Du Soleil the skiing can be truly excellent if the weather's been kind. On a couple of the years the HFO went, some of the lifts were pulling you across straw laid on green fields. In these conditions, you don't want to be using your own skis.
L'Espace Killy - the Tignes / Val D'Isere circuit - might not offer as large a ski area as the other places we've visited, but its altitude usually ensures very good skiing. There are some narrow red and black runs, as well as some wide open blues where you can practice stance and turns without running out of piste. The Epaule du charvet black run was pretty good fun, too.
The Three Valleys claims to be the largest ski area in the world, and it has some incredible skiing. You can get out of the Saulire cable car above Courchevel 1800, an altitude of 2700m, and ski to the foot of the olympic ski jump in Le Praz, at an altitude of 1250m. In the Meribel vally, the Campagnol run from the top of the Mont Vallon gondola will give you plenty of opportunities for some long, fast schusses. Over in the Belleville valley, the HFO tended to end up on the Cime de Caron black run. Because it's black, it gets a lot less traffic. It also faces north, so it's usually got the best snow. I used to really enjoy the red runs down from the Mont de la Chambre.
The skiing at La Plagne may be a little less challenging, but there's a lot of it. Because of the heavy snowfall and resulting high avalanche risk while we were there, access to some of the higher slopes was impossible, which was a shame - so I can't tell you what the Glacier skiing was like. However, there are long blue runs through trees, challenging reds, and some fairly impressive black runs available. If you want a real challenge, you can even try the olympic bobsleigh and luge run just down the mountain from Plagne 1800.
La Plagne is also in striking distance of several other ski resorts. From the runs on the south facing slopes you can see over to Courchevel and make out the airport runway - the Three Valleys are pretty close, even if it takes a couple of hours to get there by car. Luckily there is now a direct link - a double-decker cable car called the Vanoise Express - that will take you across to Les Arcs.
The Food and Drink
It's The French Way
The French have always loved their food. They're suspicious of new fads like fast food; for the French, a meal is something to be savoured and enthused over, not rushed. The French still have profound difficulty in coming to terms with vegetarianism. Meat is a staple of the French diet and even seasoned carnivores may find the variety upsetting. That steak burger you're enjoying with your pommes frites may well have come from a horse, not a cow.
Wherever you visit, do yourself a favour: try crêpes, which are very thin pancakes served with either savoury fillings (such as egg, ham, mushroom or sausage), or sweet (like ice cream, banana, chocolate sauce and nuts). Yummy!
I got hooked on Pain Au Chocolat while I was in France. It's a bread roll, filled with chocolate - served warm, straight out of the oven it's just right for sorting out your blood sugar levels first thing in the morning, especially if you have a large cup of coffee to go with it. If chocolate isn't your idea of early morning food, then croissants are recommended. Fresh from the bakery, they make you realise what pale imitations the things we get in the supermarkets are.
You may see places offering "Croque Monseuir" on the menu. Do not panic - it's a toasted cheese and ham sandwich. Very nice.
The French go for melted cheese in a big way - apart from Fondues, which you may already have encountered, there's Raclette. This involves sticking half a round cheese on to a contraption which looks like a cross between a desk lamp and an electric fire. The heating element melts the cheese, you scrape it off, and eat it.
You can also treat yourself to meat you cook yourself on a hot stone, or "pierre chaude". Both raclette and pierre chaude meals at a restaurant will cost you far more than is really necessary, but what the hell. You're on holiday, after all.
When you find somewhere special, the French dining experience can be extraordinary. I have very fond memories of a mountain restaurant called Le Carroley at the side of the blue run down to Les Bauches called "Les Teppes." The food was good value, the service was excellent, and the staff were really friendly and fun (they were having a snowball fight while we were there). They also served an after-dinner liqueur that kept us warm on the piste for the whole afternoon!
As far as going out in the evening, I also have fond memories of Plagne Centre, where I ended up in a bar called La Luna for the evening and tried a "flaming cucaracha" cocktail. You should try one if you get the opportunity - not just for the spectacle of seeing the barman set fire to the place, either. It's actually a rather nice drink; half Kahlua and half the proprietor's secret (and highly inflammable) recipe... Some members of the HFO suspect you could actually power model aircraft engines with the stuff.
A Final Note
In true internet fashion, please bear in mind that your mileage may vary. Resorts change from year to year. These pages are intended to give a flavour of what we found each trip to be like: our experiences are not necessarily going to be the same as yours. We hope they'll be as enjoyable!