Introduction
The Cosmopolitan Centre of Europe
Switzerland has a number of skiing regions. As the country shares borders with France, Italy, Austria and Germany you're likely to find a lot of regional differences. The resorts we've visited were close to the French border, and could quite easily pass for French resorts if it weren't for the currency and the scenery. Elsewhere, the flavour is more German.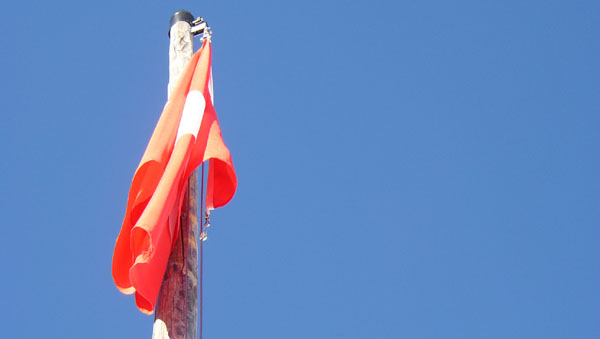 The Stuff of Legends
When it comes to mountains, Switzerland is France turned up to 11. After all, the Swiss have got Les Dents du Midi, the Grand Combin, the Matterhorn, the Jungfrau, and the Eiger to play with, and that's just for starters. With a list like that, you'd expect the skiing to be brilliant, and it is.
Getting There
By Road
While it's possible to drive to the Swiss Alps, none of us has been brave enough to try it. If you've done it, get in touch.
However, some of the HFO have travelled to Switzerland by train and bus, and turned out to have the easiest, most hassle-free journey of any of us. Verbier is well-served by travel connections and has a very spiffy bus station right in the centre of town.
By Air
We flew from Bristol Airport to Geneva and then a two-hour transfer by minibus from the airport to the resort. The transfer was fine, but the flight convinced us never to use Thompson holidays, ever again. Some of our party took twenty hours to get home; the rest of us saw the way things were going and booked our own EasyJet flights to get home.
The Resorts
Make Sure You're Fit!
The first proper Swiss resort the HFO stayed at was the famous town of Verbier.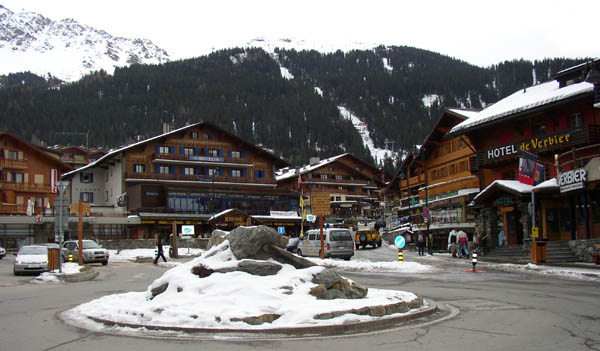 It's a rather up-market place, with a selection of select hotels and some very posh shops, but despite this the cost of staying there was remarkably reasonable. There are plenty of chalets around and that tends to keep the prices down. You'll need a map of the town to help you decide where you're going to stay, though, because one thing about the place that becomes obvious really quickly is that it's not flat. If the roads ice up, negotiating your way back home after an evening's apres-ski can become quite an experience.
The Skiing
Sheer Bliss
As we've already mentioned. the skiing in Switzerland is everything we'd expected, and more. While the resorts may have a few green runs close to the town, it's the intermediate or advanced skiers who will really get the most out of Switzerland. There's a good combination of trails through woods and wide-open spaces above the treeline. And the views are utterly spectacular.

In Verbier, you could head off-piste in just about any direction, but if you're going for the serious stuff you should take someone who knows the area. Our guide also made sure the advanced group carried transponders, avalanche tape and shovels, just in case. Given the precipitous slopes you can come across on your travels, this was a very good idea.
The Food and Drink
Something For Everyone
Aprés-ski in Verbier was pretty good, with a great selection of restaurants and pubs and clubs to stumble home from afterwards. There was a good selection of different places to unwind, from rowdy places with live music and karaoke to quieter, family restaurants.
As with most of Europe, the idea of vegetarianism can be somewhat alien to restaurateurs here. But the Swiss seem to be further along the road to acceptance than, say, the French.
The town has a French feel, and after a couple of beers you can easily lose track of which country you're staying in!
A Final Note
In true internet fashion, please bear in mind that your mileage may vary. Resorts change from year to year. These pages are intended to give a flavour of what we found each trip to be like: our experiences are not necessarily going to be the same as yours. We hope they'll be as enjoyable!