ANOTHER STUPID MEME
Every now and again the Internet latches on to some ridiculous claim that would, if people thought about it for more than a minute, or paid attention to things a bit more, or actually, like, remembered stuff, prove to be complete and utter tosh. But instead of rejecting the message outright and moving on, or - god forbid - doing a bit of fact-checking first, people copy it to all their friends and enthuse breathlessly about how much they're going to enjoy the latest night-sky spectacle - because it's nearly always astronomy-related.
One such meme that resurfaces every few years claims that Mars will appear as big as the full Moon at some point. No, it won't. Mars is roughly 4200 miles in diameter but it never gets closer to us than when it's at opposition and around 35 million miles away. Then, its greatest apparent diameter from Earth is a shade under 26 arcseconds. The Moon's diameter is roughly half that of Mars at 2160 miles, but it's just a quarter of a million miles away and its maximum apparent size is around 1800 arcseconds, or 30 arcminutes. Once you know this, you can see how somebody mixed the units up and made a fool of themselves; despite what the Internet would have you believe, the apparent size of the Moon is always around sixty times the apparent size of Mars.
Every year we're told that a full Moon will be a supermoon, giving the impression that it's going to look radically different, when in fact it just looks a teeny bit bigger than the previous month's. The difference is so teeny (around 1%) that you're unlikely to notice it at all, even if you know about it.
In 2012 we were all going to die because of some unspecified catastrophe that the Mayans had predicted, except they hadn't, and we're all still here.
At the moment, there are silly stories going around the web that the "star of Bethlehem" has returned and can be seen in the western sky just after sunset, or that it's a "once in 2000 years" astronomical event.
What they're talking about is the conjunction of two of the planets in the Solar System: Venus (the next planet inwards towards the Sun and the brightest thing in our night sky after the Moon) and Jupiter (the next planet outwards after Mars, and the biggest planet in our system). This conjunction is being made out to be some rare, mystical event. You won't be surprised to learn that it's not. Conjunctions of the planets happen frequently, as a quick browse on Wikipedia will reveal.
Why?
Well, first of all, the planets in the solar system orbit the Sun in more or less the same plane, which is known, not surprisingly, as the Plane of the Solar System. When a planet catches up with another planet (as seen from Earth), because they're in the same plane, we see them close together in the sky. Venus's orbit is inclined at around 2° to this plane, and Jupiter's orbit at just 0.32°, so when Venus catches up with Jupiter they can appear very close indeed.
As it's closer to the Sun, Venus's year is shorter than ours. It lasts just 225 days and that means it goes right round the Sun and catches up with Jupiter (which takes 12 years to go right round) in just over a year. Each time Venus catches up with Jupiter, they appear close together in the night sky because their orbital planes are nearly the same. So conjunctions of Venus and Jupiter are common, and happen, on average, every 13 months.That's a lot more often than once every couple of millennia! Last year's conjunction got quite a bit of coverage, but this appears to have been forgotten by whoever generated the recent meme. The maths of these cycles, known as synodic periods, is fascinating, as the intervals between conjunctions are not uniform and vary in interesting ways.
So the conjunction this year, while close, is by no means unusual. It's striking, but are you going to mistake this for the Star of Bethlehem? No. Of course you aren't.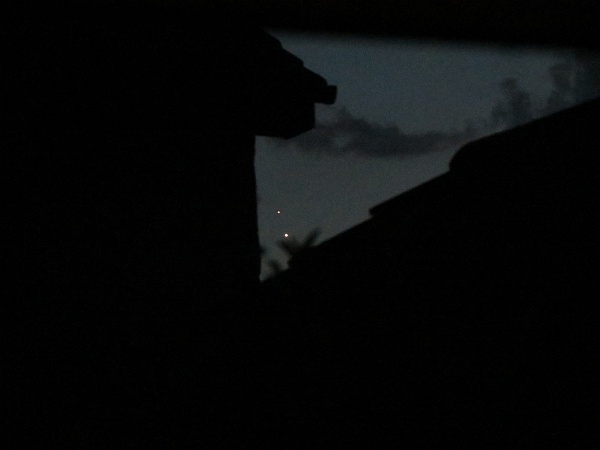 Next year's conjunction, on August 27th, will see the planets much closer in the night sky, separated by just 4 arcminutes (this year's separation was 24 arcminutes). The next really impressive alignment of the two planets will happen on the 22nd November 2065, when Venus will actually pass in front of Jupiter. That's a much rarer event, as it last happened on January 3rd, 1818. You have my permission to go nuts for that one.
STILL HOT
It was 30°C outside when I got up this morning. The Met Office are predicting that today will be the hottest day of the year, although here it's clouded over and the temperature has actually dropped a couple of degrees. It's muggy and still outside and I suspect it won't be too long before a thunderstorm arrives; looking at the radar there's a line of storms advancing north over the English Channel right now. I've taken the unusual step of wearing shorts today; I don't enjoy really hot, humid weather like this. Living in Tampa was okay, because practically everywhere had air conditioning. Here, there is no escape unless I go for a drive in my car and turn the AC on. Whatever you're doing, make sure you keep yourself hydrated - I've just got myself a glass of cold water from the fridge.