So, do you do this stuff professionally?
Good heavens, no! I design computer based training programs. Don't get me wrong - I don't have any pretensions about being a serious graphics artist: I just enjoy doing this stuff. Nevertheless, I read quite a few graphics blogs online, including Drawn!, Waxin' and Milkin', But Does It Float, Infosthetics, The Ministry of Type, The Art of the Title Sequence, and - of course - Ffffound! Now Ffffound! used to be an interesting site with a mix of stuff that was really good - strong work by people who can actually draw, take photographs, or make things. Unfortunately it's since deteriorated into hastily cobbled-together combinations of other people's work overlaid with badly-typeset messages from people who can't spell and have little understanding of English. When you're putting together a typeset quote from Mark Twain, for example, the least you can do is make sure you've managed to spell "disappointed" correctly.
These artists might claim that they're being ironic or that they're trying to convey a particular feel by producing substandard work, but when I look at a graphic (or a piece of typography), I expect to see a certain amount of skill being deployed.
"Anything goes" doesn't hold true in my book. Why?
Because when I look at a graphic I don't want to feel that I could have done better. I want to see something I know I couldn't possibly have done myself. At the bottom of the page there are links to sites featuring artists who regularly make me feel that way.
Where did you start?
I've loved drawing for as long as I can remember. I have a very visual learning style, which is probably another aspect of the same thing.
I used to draw a lot, even when I was only 6 or 7 years old. When I was small, I used to draw a lot of characters from comics. Later on, I started to copy pictures that I liked. It turned out to be a very good way of learning what worked and what didn't, and I began to notice things like technique and composition.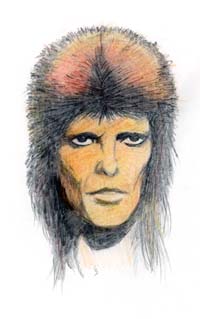 After a while, I started making my own pictures, usually still life or landscapes, but also including portraits of people - although I usually worked from photographs. Here's one that turned out quite well, I think: David Bowie in his Ziggy Stardust phase. A bigger version's available if you click on the image.
It took me a long time to learn how to look at someone with an artist's eye. Each person has something about them that makes them who they are. It's easier to spot in some people than it is in others; while I once spent a week making preliminary sketches of David Byrne before finally realising that he was squinting at the camera in the picture I was working from. The squint made the portrait work.
I still haven't found anyone with a better graphical technique or greater creative drive than Jean "Moebius" Giraud, and he became one of my heroes. He still is. This is the guy who designed the spacesuits in Alien, the costumes in Tron, who was responsible for the cool bits in the Heavy Metal movie, and who appeared to be even weirder than I was. He had - and still has - a huge influence on my graphical style, and it's thanks to him that I'm obsessed with cross-hatching.
Back in the 1980s, you couldn't really buy posters of artwork like this, so I had to make my own. This is my version of a classic Moebius painting. Mine was done with Rotring pen and watercolours.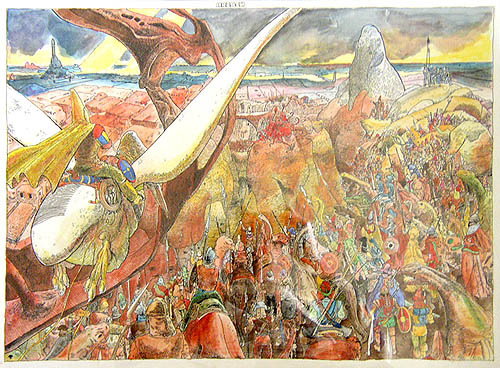 I would probably have grown out of all of this by the early 1980's, were it not for the fact that I joined the Motörheadbangers, a fan club run by the drummer's sister Helen Taylor.
When I joined, I sent in some drawings.
They liked them.
And in passing I'd just like to point out that the drawing above mine was produced by a young chap by the name of Simon Bisley. Yes, that Simon Bisley.
I sent in some more drawings. They ended up as T-shirts, and Lemmy started wearing them. When I saw a photo of him in Sounds wearing an MHB shirt with my design on it, I was so hyped I don't think my feet touched the floor for a week. The fan club started passing on art direction from Lemmy. "Do a Conan story," I was told. So I did...
The next thing I knew, I was hanging out backstage with the likes of Girlschool, Frank Marino, Ozzy Osbourne, Canadian prog rockers Triumph, and of course Motörhead themselves. I made a number of great friends, and thirty years later I'm still in contact with a fair few of them.
Over the next decade I continued to do artwork for the Motörheadbangers magazine, which was pretty heady stuff considering one of the other contributors is Joe Petagno, who came up with the Motörhead logo.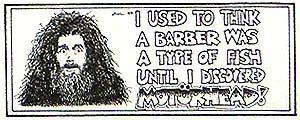 Here's a picture of another famous person with a Motörhead connection.
Michael Palin is a hero of the band's and they got him to appear on an album a few years ago - so of course his picture had to appear in the magazine.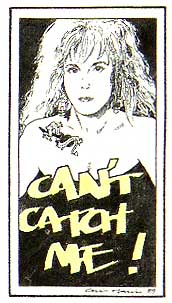 Lemmy has also written songs with a surprisingly large number of other artists including Ozzy Osbourne, but I think my all time favourite collaboration was a song Lemmy wrote with Lita Ford, who is shown here. I wrote the song title with a yellow marker pen, drew around it with one of my Rotring pens, pencilled in the portrait, and then inked it in with a Rotring pen before using an eraser to get rid of the pencil marks.
Lita used to be in The Runaways with Joan Jett, but went on to have a successful solo career. I saw her supporting Ritchie Blackmore's Rainbow a while ago - yes, this was back in the days before Ritchie went all medieval on us.
Incidentally, here's a bit of rock trivia for you: did you know that Lita Ford was born in England?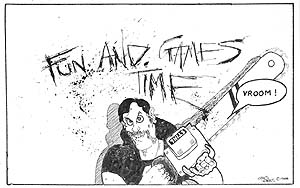 I continued to collect books of graphics, and when, early on, I discovered a copy of Hunter S. Thompson's Fear and Loathing in Las Vegas I became a huge fan of the inspired mayhem of the one and only Ralph Steadman.
Of course, I had to have a go at that sort of style and the natural place to try it out was in an illustration for the Motörheadbangers magazine, but I'll freely admit that I can't carry it off like the master can.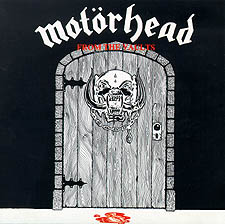 All the same, one of the proudest moments of my graphical career was when I was asked to design the cover for a compilation album.
I also had to prep camera ready artwork for the sleeve notes and the do the label design. I did the whole thing on a borrowed Apple Macintosh in two weeks, and I'd never used a Mac before. That was quite an experience - luckily, it was a successful one!
I was still reading comics, too, and for some reason I got it into my head that I should try and combine all my different interests - rock music, film, science fiction and comics - on a single sheet of paper. The picture below was the result of my first attempt. Again, you can click on the image for a larger version; you'll probably need to see it in close-up to make out most of the characters in the background.
I had a blast drawing the picture above, and when some folks from another band saw it they asked me to do some stuff for them in the same style.
They gave me a list of people they wanted standing around them, rather like the Beatles' Sergeant Pepper album. My version was a little weirder; I don't think the original concept would have featured Geoffrey, Zippy and Bungle from Rainbow alongside George Orwell, Alf Garnett, or Dave Lee Roth. The band never did make it but the last time I checked, their singer was director of programming at Capital Radio. Figure that one out.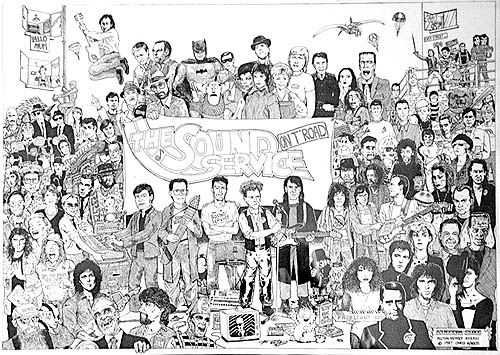 I also ended up doing some of the writing and all of the illustration for the Head First Only Club's very occasional skiing newsletters. If you've still got a copy of one of the four issues that we ran to, you own a collector's item.
Sadly, my output has almost completely dried up these days. I lost a lot of the enthusiasm for it when I got divorced, to be honest, but that was just one of several fairly massive personal changes I've gone through over the last twenty years or so. There's more than a little bit of obsession in doing large-scale work like this, and I don't know if I've got the capacity for it any more. Is that a good thing, or a bad one? I don't know. Perhaps it means I've become more normal. Perhaps not - you'll have to ask my friends on that one, I'm afraid.
All the same, I do still occasionally dig out the Rotring pens to do mastheads and banners for this site. They're then scanned in to my computer, where I can add colour and a drop shadow to provide the results that you'll be familiar with after a quick trip round the rest of my site. One thing I've discovereed in recent years is that if you don't give the bottle a shake every now and then, indian ink settles out - I wondered why the few times I have used my Rotrings recently they were drawing fainter and fainter lines. The bottle was thirty years old, though...
Every once in a while I try to get drawing again and I started to draw covers for a series of imaginary magazines some time ago, but I didn't take it very far. Here are the ones I came up with. Again, you can click on the images to see larger versions.
Although I have a graphics tablet to produce graphics directly on the PC, I've not used it that much. I know it's faster, you don't get covered in ink, and you don't have to wash Rotring pens out in the sink every couple of weeks - somehow, though, it's just not as much fun.
You'll find one or two other more recent illustrations scattered around the rest of this website, and most pages have hand-lettered titles that I drew myself. The blog has had a different banner graphic for pretty much every month since I started it back in 2003.
The drawing board now takes pride of place in the new conservatory on the back of the house, and I've moved all the graphics gear in there - it's a nice bright room, with plenty of space to stretch out in. The board is now also fitted with a Camera Lucida, which I've started to get to grips with. I've wanted one for years and when I saw the NeoLucida on Kickstarter, I couldn't resist.
So my graphics journey continues. I may yet return to the frantic cartooning days of old - you never know!
Heroes
The artists listed here are my heroes. I can't begin to thank each and every one of them for the years of pleasure they have given me through their work. My life would be utterly different had I not been given the opportunity to savour their unique creativity and talent.
Note: Although there's a link to his Australian publishers here, I'm still looking for a comprehensive site about the great Ron Cobb...
Chris