Ian Fraser "Lemmy" Kilmister 1945 - 2015
As I'm sure you have already seen, Lemmy, the frontman of the rock band Motörhead, died on December 28th, four days after his 70th birthday and just two days after being diagnosed with an extremely aggressive form of cancer in his brain and neck. "I've just always been in a hurry for everything. I'm a very impatient man," he once said when describing his music as "the blues, played at a thousand miles an hour." Even in death, he didn't hang about. It just wasn't his style.
Rock and roll is a hyperbolic business. Superlative terms are bandied about a lot and inevitably words like "legend" or "superstar" get devalued. But Lemmy was a genuine legend, viewed as such by his contemporaries and successors as much as he was loved by his fans. And not just because of his awe-inspiring capacity for drink or amphetamines. He shaped the course of music; there'd be no thrash metal without Motörhead leading the way. Members of all of the Big Four thrash bands - Metallica, Slayer, Anthrax and Megadeth - cite hearing Motörhead as a reason for forming the bands in the first place. I know more than one bass player who started playing after hearing the extraordinary sound that Lemmy could get out of a Rickenbacker 4001. Yet he was never egotistical about it, never arrogant. Even at the height of Motörhead's chart success in the early 1980s you'd often find him in the Marquee Club, propping up the bar and talking to anyone who came up to him to say hello. But the place where you'd be most likely to find him would be at the fruit machine. He'd pump incredible amounts of money into the things, which were a life-long obsession. Five hundred quid in a night wasn't unusual.
Technically, he was in a class of his own. Originally a rhythm guitarist, he got a job as roadie for Jimi Hendrix and, in his words, "I've never come across a better guitarist than Jimi. Within a couple of years, I'd seen all the tricks but I wasn't good enough." So he switched to bass. By treating it as a "deep guitar" he came up with a unique sound that distinguished his music from everyone else. He played the bass as a rhythm guitar, creating a wall of sound that made the band's output as a three-piece (whether it was the line-up of Kilmister/Clarke/Taylor or Kilmister/Campbell/Dee) sound beefier than many bands with twice as many musicians. Even his posture on stage - head tilted way back, singing into a mic pointing almost straight downwards - was unlike anyone else in the business.
The band became famous for playing at incredible volume. Even the wedge monitors at the front of the stage had to be capable of delivering 130 dB at a distance of two metres, and Lemmy's trademark Marshall backline, fitted with one optic of vodka and another of orange juice, would be running flat out. The reputation for loudness was gleefully embraced by the band: "If we moved in next door to you, your lawn would die" was a full-page quote in the programme for their first major UK tour. Lemmy never mellowed out, or stepped back from that approach, either. A few years later, a journalist asked him if he wasn't worried that the excessive noise was damaging his hearing. Lemmy's response was priceless:
"Eh?"
For a time he lived in a pink houseboat on the Thames called the Scarlett O'Hara. He loved reading P. G. Wodehouse. He was inordinately fond of cheese sandwiches. He had a wicked sense of humour and a cackling laugh. He loved Spike Milligan, and drew cartoons that were very much in the Milligan style. He knew every Monty Python sketch (and when they recorded tracks at Redwood Studios, which at the time was co-owned by Michael Palin, he persuaded him to appear on the band's album Rock and Roll.) He moved to LA at the end of the 80s and I'm convinced that gave him another ten years of life, at the very least. Out there, he was treated as rock royalty, and rightly so.
Lemmy never, ever forgot the fans. And for this fan in particular, he provided more than one life-changing moment. When I drew comics for the band in the 80s, he wrote me a thank-you letter. Phil and Eddie wrote messages too, but these words from Lemmy were (and still are) the highest praise I could ever hope to get for my artwork.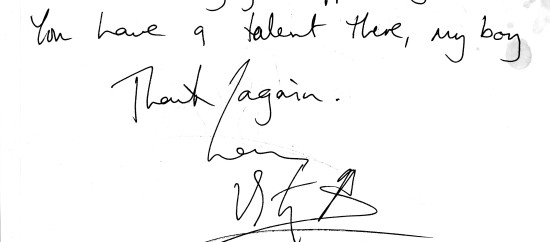 I've been playing Motörhead albums a lot this week. I've shed a tear or two. And I've raised more than one glass in tribute to the great man. Thanks for everything, Lemmy.
IS IT CHRISTMAS YET?
The Christmas tree is up and I've done my Christmas shopping. But I'm struggling to find the Christmas spirit. Perhaps it's the weather; it's another blustery day outside, and it continues to be unseasonably mild. There hasn't been a decent frost so far this winter and it still feels like the beginning of November to me - apart from the fact that it gets dark by half past three in the afternoon. The winter solstice occurs at ten to five tomorrow morning. Counterintuitively, the Earth is nearly at Perihelion, the closest point in its orbit to the Sun, which it reaches on January 2nd. Don't make the mistake of assuming that this explains all that warm weather, though.
Perhaps I'm coming down with a cold. I feel sluggish and my energy levels, which are never good at this time of year, have all but given up the ghost. This morning even a large mug of coffee has done little to kick things in to gear. I could quite happily have stayed in bed for another couple of hours this morning.
Perhaps it's the large pile of ironing which is waiting for me on the chair in the living room. I'll be starting on it as soon as I've finished this blog, but I'm struggling to work up the enthusiasm to make a start on it. Ironing is my least favourite household task.
Perhaps it's because I haven't bothered to buy the Christmas Radio Times this year; I get TV listings electronically these days and I've hardly watched any TV this year at all, so it didn't seem worth it.
I've spent too much time on my own this year and that, I suspect, is the main reason why I don't feel very festive. I'm sure in a couple of days I'll be fine. I'm not usually a "Bah! Humbug!" person over Christmas and it will be nice to catch up with friends and family over the next couple of weeks. Whatever you're doing in the next fortnight, I hope you have a good time too.
HAMMERSMITH AND ANOTHER LATE NIGHT
I follow "Fast" Eddie Clarke on Facebook and this morning he posted a photo from 1981 or so of Motörhead and Girlschool where Lemmy is wearing a "Rock Invaders" shirt. I drew the band as Judges from Mega-City One and sent it in to the fan club. I never expected Lem to see it. I didn't expect him to demand that it be used as a t-shirt design and I certainly didn't expect that I'd end up backstage at the Hammersmith Odeon on the subsequent tour. Those were interesting times, to say the least. More than a few of the folks from those days are no longer with us; for those of us who are still here, life has changed. Things have moved on, but there are times when I still miss the old days.
On Friday night I was back at the Hammersmith Odeon for the first time in at least a decade, and those memories all flooded back. The Odeon goes by a different name these days, and it seemed a little smaller and a little cleaner than it did back in the 80s, but it's still one of my favourite concert venues and I've spent many happy hours there. I've seen all sorts of acts there - from Judas Priest to Pat Metheny, from Judie Tzuke to W.A.S.P.
But it's safe to say that I'd never seen a breakneck analysis of prescription trends in the National Health Service performed on its stage by an epidemiologist before, or that I would be applauding a Professor of Inorganic Chemistry blowing a Coca-Cola bottle to bits with nothing more than a jug of water and some pellets of dry ice. Nor that the evening's performance would conclude with a set from New Order, with the keyboard player from D-Ream guesting on synthesizer.
But when you're going to an evening organized and compèred by Robin Ince, it's best to expect the unexpected. I was attending Robin and Brian's Christmas Compendium of Reason, an event that both celebrates science and raises money for a number of charities including Médicins sans Frontières and the Sophie Lancaster Foundation. Aside from Robin and Brian, I had no idea who I was going to be seeing, although when a certain former Commander of the International Space Station sent a tweet out at lunchtime that said "Hello London!" I had a pretty good idea of who one of the guest stars would turn out to be. I was right, too - and seeing him explain just how cramped the Soyuz spacecraft is to Brian and Professor Chris Lintott was just one highlight of a packed evening. Hearing Professor Lintott describing KIC 8462852, the star I blogged about back in October, as "really ****ing weird" was another. He was then joined by Jon Culshaw (in character as Sir Patrick Moore) to extol the virtues of the BBC's the Sky at Night programme in rhyme (and some of the couplets had me groaning out loud).
Musical director Steve Pretty did a great job of coordinating things from the side of the stage (and I knew I was in for an interesting evening even before I sat down.) There was a string quartet. Charlotte Church sang duets with Grace Petrie. Commander Chris Hadfield sang a song about looking down on Earth from orbit at Christmas. Helen, Steve and Matt from the Festival of the Spoken Nerd literally joined the audience together with the power of music, and the rest of the evening went past in a blur of comedians and PowerPoint presentations.
Robin wound things up at about five to eleven and sadly New Order didn't have time to play Blue Monday because it was all over. That was one of the best events I've ever been to at Hammersmith - or anywhere else, come to that. Robin and Brian are taking a break next year (we've run out of favours to call in, they explained) but they will be back in 2017 and I will definitely be getting a ticket.
I picked the car up from the tube station where I'd parked and started the drive home. I was hoping I'd have a less entertaining journey than the trip in (seeing signs on the M4 displaying the message "Slow Down Oncoming Vehicle" was not something I'd seen before, and if I never see that message again I'll be happy) but the M4 in London had been shut following an earlier accident and the A4 was gridlocked, even at midnight. With the sat nav's help I took a detour through Ealing. When I finally got on to the motorway I realised that I'd not eaten anything since breakfast time, so I called in to Reading Services for a cup of coffee and a sandwich (and I haven't done that for a while; the last time was when I was heading back home from the FAWM over party back in April.)
I called in at an open-all-hours supermarket in Bristol and filled the car up with petrol, so by the time I drove into the village it was after 3 in the morning. I still find it extraordinary how much traffic is about at that time of night. The motorways never really stop.
As I turned into the cul-de-sac I noticed something lurking in the bushes of a neighbour's front garden and was very surprised when it turned out to be a fox. I've never seen one that close to home before, although I've noticed their distinctive smell once or twice in the lane by the railway. By the time I'd put the car and the shopping away and got myself a glass of orange juice it was nearly four in the morning, but I couldn't sleep at all. My ears were still ringing (New Order were a lot louder than I'd expected) and I was buzzing from a really stimulating evening. It must have been nearer to 6 am when I finally dozed off.
It was totally worth it. That was a great night.
BRISTOL AND BEYOND THE INFINITE
I've spent much of the last week hanging out with an old friend of mine from the William Gibson Board (WGB) who was making one of his occasional visits to Bristol.
He was visiting, in part, to attend a couple of gigs, and as I know he has rather interesting tastes in music, I got tickets so I could tag along. On Wednesday we saw Bianca Casady and the CIA at the Lantern. This was part gig, part musical theatre, part performance art; it was something very different to the shows I normally attend. There was a mime artist. Mysterious and unsettling black and white films played in the background. There were costume changes. Band members were switching rapidly between an array of instruments that ranged from violin and grand piano to bass guitar and trumpet (from Takuya Nakamura) to electric guitar, clarinet and saxophone (all wielded with aplomb by Doug Wieselman). It wasn't always comfortable to watch, but it was a fascinating (if rather short) night.
On Thursday I returned to my prog rock roots and went to the Academy to see Fish - a.k.a. Derek Dick, who performed the whole of Marillion's breakthrough album Misplaced Childhood. The crowd was in a very singy mood, which seems to be a thing for Bristol these days. When your audience is predominantly bald middle-aged blokes who used to listen to these albums when they were younger, familiarity with the lyrics is not going to be an issue, so I bellowed along to the likes of Kayleigh and Market Square Heroes with the rest of them. At this gig, though, it was the support band who made the biggest impression - a group of musicians from the south of France called Lazuli. Five guys with a bewildering array of instruments that ranged from French Horn and MIDI mallet controller to synths, very nice guitars from Godin and Parker, and a fantastic homebuilt controller called a Léode, which its player, Claude Leonetti, designed and built after he lost the use of his left arm in a motorcycle accident. The music they produce together is rhythmically and tonally dense, and sounded amazing. I am now a big fan.
On Friday night we wandered down to the Louisiana to catch sets from Luna Parks, Eliza Rickman and She Makes War. I'd heard Eliza ("That's Eliza, as in Doolittle, and Rickman, as in the actor who plays Snape in the Harry Potter films," she very helpfully told us) on the Welcome to Night Vale podcast and I've been following Luna Parks (who hail from Bristol) on their Soundcloud page since Mr P introduced me to them. Laura is from Bristol too, I found out. It was a great gig; really interesting music, very entertaining, and a fun crowd. I was in awe of Laura's looping skills. Oh - and if anyone found a blue ukulele last week that has dolphins on it, it's Laura's, and she would really, really like it back. She left it on a train in Cheltenham and its replacement does not appear to like her!
Again, I am now a big fan of the musicians involved - I bought CDs (and Eliza very kindly signed hers for me). It's been lovely to have been introduced to so much great music this week.
Aside from the music, though, there was much drinking of coffee (which finally shifted the cold I've had since the end of November) and much discussion of writing and the current state of SF. Wandering into Forbidden Planet, we compared notes on new authors (I actually got some of their names right) and I ended up with quite a few more novels to read. I have already finished the conclusion of Ann Leckie's Imperial Radch trilogy, Ancillary Mercy - in fact I stayed up until half past two in the morning on the day I started it to finish it off. I've also roared through Leviathan Wakes, the first book in James Corey's The Expanse series, which I also hugely enjoyed. I suspect I will be working my way through the rest of the series in the coming months. Last night I started Poseidon's Wake, the concluding work in Alastair Reynolds's Poseidon's Children trilogy and that is, again, going in a completely unexpected direction. When I've finished that, I have Emma Newman's Planetfall lined up; I read the first chapter online which showed that the very positive reviews it's been getting are totally justified. I bought a bunch of eBooks, too. I have been reading lots of stuff from Paul Cornell, particularly the Shadow Police books London Falling and The Severed Streets. London Falling was another "I'm not going to be able to sleep until I've finished it" book, and I really enjoyed it. This week I added Jeff Vandermeer's Winter Mixtape Bundle to my Kindle, which means I have ten novels by writers from all over the world added to my reading list. That should be enough to keep me going over Christmas, I think.
The whole "staying up until half past two in the morning" thing has become a bit of a habit of late. I've always loved reading books. As a kid I could immerse myself in a book for hours, to the point where the rest of the world would just go away. In recent months I seem to have rediscovered that capacity for total immersion. Several times I have found myself still awake in the small hours of the morning, closing the last page of a novel with a contented sigh. Maybe it's a personal thing, thanks to the fact that I'm feeling much better than I have done for years. Or maybe it's because I've been reading a lot of really good fiction recently.
I love reading work that takes me somewhere else. However stimulating travelling into town may be, the paradox is that I can travel further and encounter more unusual and fascinating concepts from the comfort of my bed, or my favourite armchair (or, if the book is really too good to put down, the bath...) Science fiction is the principal means by which I can do this. Being "taken somewhere else" by a work is often described as escapism, as if that's a bad thing. I don't believe that it is. It challenges our preconceptions, it broadens our understanding of human nature, and it can give our brains that wonderful kick which makes us sit up and think, "oh, now that's interesting..." Work like this can show us our own surroundings in a new light, can change mundane and everyday circumstance into something new and deeply weird (and reading William Gibson describing the London I thought I knew is a prime example of this.) I don't want SF to be comfortable, and I don't expect the SF I read to always make me feel warm and fuzzy all the time. I don't want it to be more-of-the-same. I want SF to sidle up to me, say "Have you thought about the implications of this?" and leave me wondering. Mainstream critics get sniffy about novels with talking starships in them because they don't get the fact that in writing about the future, authors are (in general) examining the present. Perhaps the best example of this is Ray Bradbury, who according to his friend Theodore Sturgeon, said that
"The function of science fiction is not only to predict the future, but to prevent it."
SF writers take the present and show us where the road we're on could lead, for better or worse. A lot of the time, it's for the worse and sometimes things end up a lot worse. William Gibson, again, drops a concept into the pages of his latest novel The Peripheral that is an utterly horrifying extrapolation of where big business could go, just how deeply, brutally and callously a world could be exploited, given technology that enabled such actions.
Sometimes, though, writers show us what might happen if things turn out okay. And oh, how seductive those futures can be. When I was a child it was the works of Arthur C Clarke that really captured me in this way. For sure, other writers came up with high concepts and timescales that went beyond human existence, as Clarke's work did. In the conversations I've had about SF this week I noted how Clarke might not have been very good at characterisations; when he writes about relationships, saying that he's not at his best is putting it kindly. But he had few equals when it came to conveying a sense of mystery, or wonder. For a writer known for "hard" SF (that is, Science Fiction which obeys the laws of physics and doesn't play fast and loose with, say, general relativity or the laws of thermodynamics; SF that is usually very strongly geared towards lots of fancy technology that you could rap your knuckles on) Clarke has a surprisingly mystic bent. Some of his short stories, such as A Meeting with Medusa and Sunjammer I read as a small boy and because of that mystic element they haunt me to this day. It's not so much because of what takes place in the stories themselves, it's the framing of the story. It's because he gets us to think about the repercussions of those events, what their significance might be in the longer term. Clarke was great at getting readers to think about the deep time in which his stories were set. When he wrote about the future, he really was writing about the future. The older I get, the more I realise what a special talent that was.
FIRST DAY OF WINTER
...meteorologically speaking, that is. For astronomers, winter doesn't begin until the Winter Solstice, which this year takes place on the 22nd at 04:48H UTC. As I observed a couple of years ago, in other parts of the world winter has already been under way for a month or two.
To commemorate the fact I have a winter cold and am feeling rather out of sorts.